A Cherished Summer Getaway
on Mackinac Island
Boutique Luxury
on the Straits of Mackinac
A seasonal stunner, our classically sophisticated and intimate hotel captivates first-time visitors and longtime guests with a singular combination of individually decorated guest rooms and suites, exceptional dining, and an unmatched waterfront location.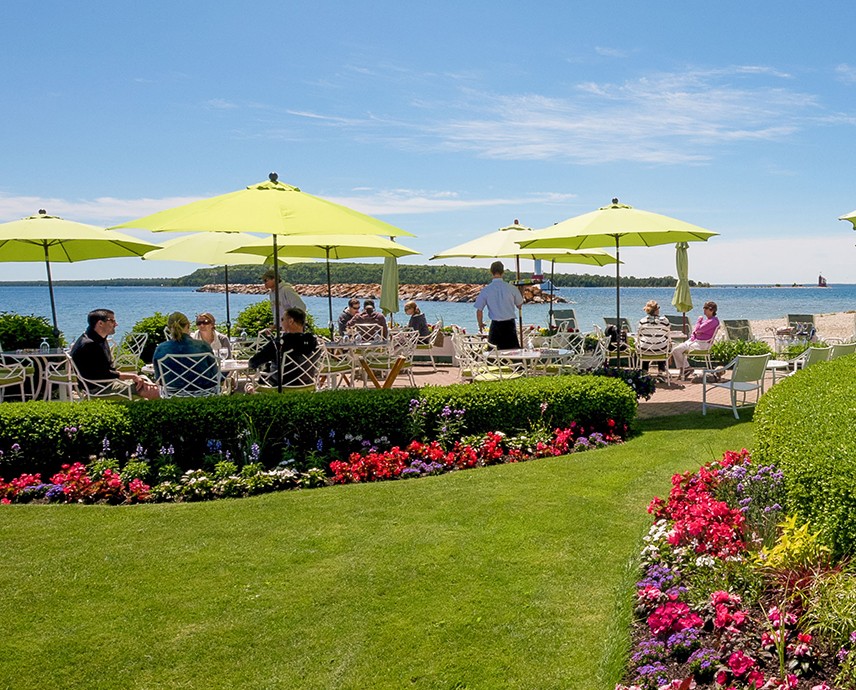 Flavors
at the Carriage House
Enjoy one of Chef Greg Murphy's award-winning dishes, such as the fresh Seafood Salad, paired with a glass of Sancerre and a waterfront view, at The Carriage House.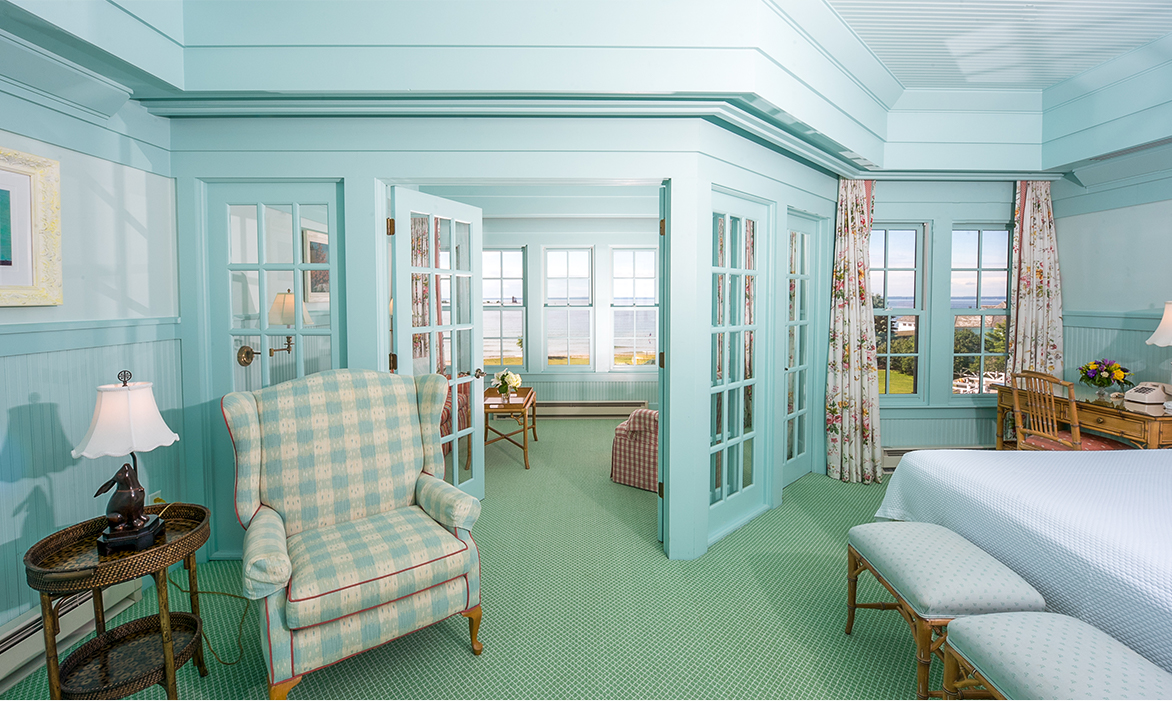 Colorful
Residential Retreats
Timeless furnishings pair with bright plaids and prints to create guest rooms and suites that feel like your own seaside summer escape.
Idyllic
The Hotel Iroquois is fantastic. All of the staff goes above and beyond at all times. We thoroughly enjoyed our stay. The location is very convenient to the harbor, especially if you take the Star Line ferry. Our room was a classic, with a nice view of the Straits of Mackinac and the Mackinac Bridge. The complimentary continental breakfast was outstanding. If you are considering a stay on Mackinac Island, I highly recommend the Hotel Iroquois.
- Timothy B
Mini vacation
My husband and I stayed here as newlyweds and had a great experience. It was like staying in a hotel back in time. The staff was very friendly and they kept the hotel impeccably clean. Everything was great from the dining area to the sitting areas available in the entrance. I will plan on coming again.
- Haley R
Perfect place!
We are here for five nights...the staff was friendly and helpful. Our room is on the third floor overlooking the lighthouse. We liked our room a lot......we chose to keep the windows open to hear the waves crashing on shore and feel the cool sea breeze.it was a very relaxing locale, yet close to the Main Street! What more could we ask for...
- Cherie P
Wonderful hotel in a great location!
The Hotel Iroquois was the perfect spot for our 2 night visit to Mackinac Island. The hotel is located at the end of main street, so easy walk to restaurants, stores, etc, but enough distance to still be quiet and out of the hustle and bustle. We had a room overlooking the lake and it was so beautiful. The staff is very nice and the hotel beautifully decorated. We ate every night at the hotel restaurant and enjoyed it tremendously. Great place to watch the sun set.
- MaryE995
Perfect place to stay with a view
We only stayed one night on the island, but everything was wonderful. Hotel Iroquois is gracious, historic, wonderfully appointed and a perfect location. We had a corner room on the 3rd floor with a view of the harbor so we could watch all the activity. The staff is very professional, and the bar and restaurant are wonderful. Good drinks, excellent food, terrific views - what else would you like?
- gdownes
Explore
Mackinac Island
As if suspended in time, Michigan's beautiful Mackinac Island recalls the ease of an earlier era. At just under four square miles, it's best explored on foot or by bicycle or horse-drawn carriage,